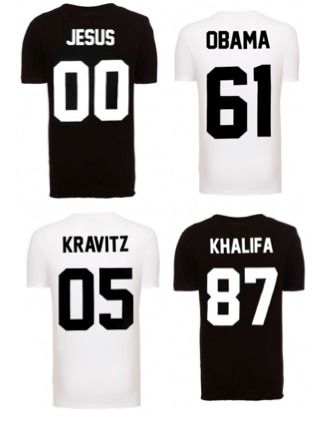 I never really payed much attention to the backnumber shirts - which seem to be the newest trend - because I'm not really 'Sporty Spice'. Maybe that's not entirely true... I used to practice gymnastics and horseback riding when I was younger and I used to dance too. I then went to college and my priorities kinda changed, y'all know how it goes.
One of my all time favorite brands, 
Eleven Paris
, designed their own version of the backnumber shirts and I'm really digging these ones. My favorites are the Jesus one (because I'm not religious at all and I like the irony) and the Kravitz one (because it's about Lenny and he's just perfect). 
I'd probably buy them oversized, so that I can wear it as a dress or so that I can tuck them in a pair of denim shorts to get that 'baggy' effect. Since Eleven Paris launched the shirts just recently, I couldn't find any pictures of bloggers or other people wearing them, so I collected my top 3 of looks with similar shirts. Just click to see more. ;)
Which shirt is your favorite?
You can buy the shirts on the Eleven Paris-website 
here
.
x Krizia