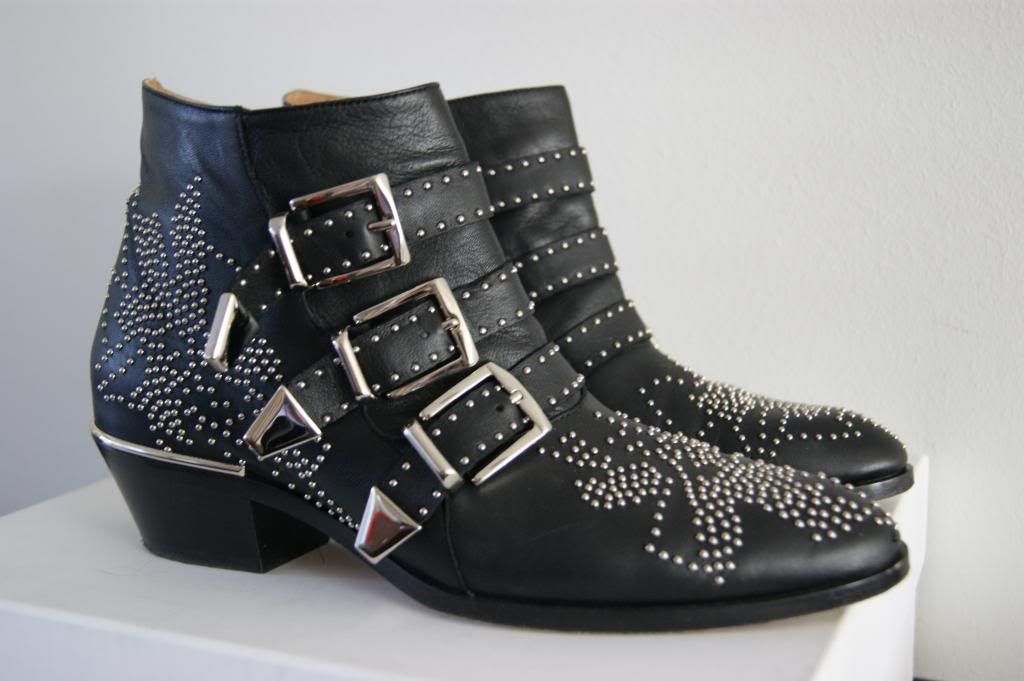 Yes, it has finally happened. I can die happy and peaceful now. The Chloé Susan / Susanna boots are mine now! I went to Amsterdam last Thursday, because I knew they were selling the Chloé Susan boots at
De Bijenkorf
and at
Shoebaloo
. I decided to go for black, because well... They're quite expensive, so I wanted to go for a classic and long lasting color. I got the black with silver hardware ones, because it looks like the black with gold hardware are out of production. Bummer, but these will do just fine too.
I can already see myself wearing these with skinny jeans, shorts, dresses... I'm convinced I can combine them in multiple ways, which turns them into an investment rather than a season bound item. The boots are inspired by the winklepickers, a type of shoe that became popular in the 1950s and that were mostly worn by British rock 'n roll fans. The winklepickers, on their turn, are inspired by medieval footwear. As a history teacher, I find this all so interesting. Chloé first designed these shoes in 2008 in lambskin leather and they were sold out in no time. Due to that huge success, they decided to reissue them in 2011 / 2012 (but in calfskin leather this time).

I've been wearing the booties non stop ever since I got them and the pictures below were taken in Antwerp. I loved them with these cropped striped pants, while my dad found this one of my ugliest outfits ever, haha.
Anyway, if you're planning on purchasing your own pair of Chloé Susan boots, I suggest you go a size down. I'm usually a size 39, but they almost fell from my feet when I was walking around the store. A size 38 fitted perfectly. I think it's important to know if you're planning to order them online, like here on
LuisaViaRoma
, which is a highly trusted luxury online shop.
x Krizia