Hi everyone!
Yes, I am still alive. I've just been super busy with my internship -- One week down, still two to go. Since it is a national holiday tomorrow, I decided to do absolutely nothing for school tonight.
My friend Hille gave me an
Asos
gift card for my birthday (you can never go wrong with some Asos) and I decided to focus on the tops and shirts. I'm a bit skeptical when it comes to online shopping, because I always think something will go wrong with the delivery or fitting of the items. So I thought that tops would be the safest when it comes to sizes. I have made my top 3 staying in the price range of the gift card, but I need your help, because I can not choose between these three items at all!
Which one do you prefer?
1, 2 or 3?
Please help me!
x Krizia
1. ASOS Maximal Sequin Jumper
2. ASOS Jumper With Neon Hedgehog Design
3. ASOS Jacquard Sleeveless Shell Top
P.S.:
Thank you for all the birthday wishes in my last post!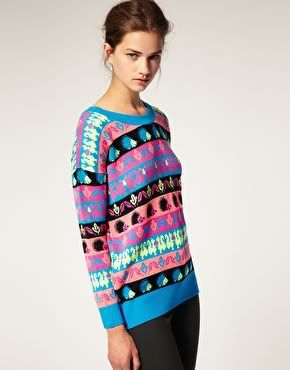 This is probably something you would never expect me to choose, but I find this shirt
rather
fascinating
. Plus, the colors are perfect to
cheer up
the dark winter that's
coming up!