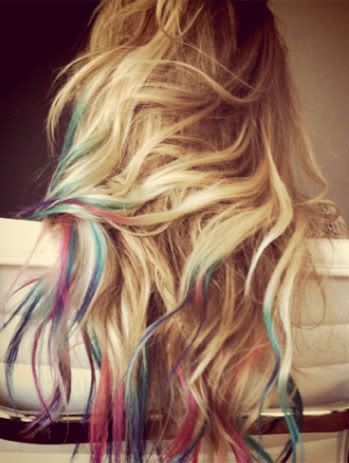 I've always been a fan of
Lauren Conrad
, from watching her star in Laguna Beach and The Hills, to reading her books and Googling her on a regular basis. I used to dream about having a life like hers on The Hills and to drool on her outfits, which to me, always looked perfect. Now that I'm older, I'm not
that
obsessed about her anymore, but I'm still a fan.
I was surprised to see this picture of Lauren, having the ends of her hair dip dyed in various colors. I love to see her taking a break from her 'American Sweetheart'-image. When I was younger, I dyed my hair black, black AND white, pink, red, orange (big mistake) and I also used to have various pieces of colored fake hair that I used to wear all together. Yes, I've had my share of colored hair. :D
I like this do a lot and would try it out immediately if I had a celebrity hair dresser, since I'm a bit scared of looking like a total clown / wrong punk chick with the hair dressers around here.
What do you think about this do? Hit or miss?