Always wanted to know what my closet looks like?
Keep on reading, then! The Dutch fashion website I Love Fashion News did a feature on my closet, asking me about my style and some of my favorite items. Don't expect a huge walk in-closet or something. That's something I'm still dreaming of.
Click below to see more pictures.
Click HERE to see the feature.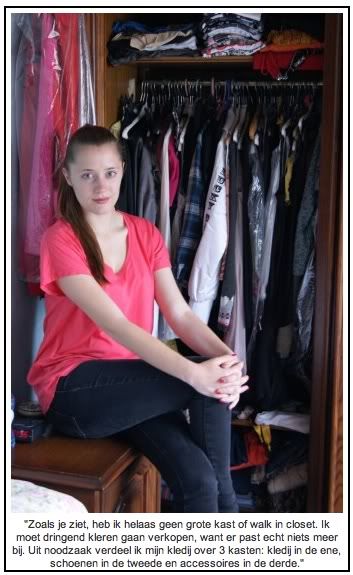 "As you can see, I don't own a huge closet or a walk in-closet. I really have to start selling clothes, because I can't add any new items to my closet anymore. I divide my clothes over 3 closets: clothing in the first closet, shoes in the second and accessories in the third closet."
"I hope that I'll own a closet like Carrie from Sex And The City someday. It's like she says to her boyfriend: "I don't want a ring, just give me a really big closet". My sister will be moving out of our house soon, which will give me the opportunity to use her closet too."
"Jackets, dresses, tops, pants ... They're all stuffed in here. I like leather, rock-a-likevjackets and I only wear skinny jeans. I also store my T-shirts in here. I'm a huge collector of band shirts and own shirts of Guns 'n Roses, Jimi Hendrix, The Doors and The Sex Pistols, to name a few. This immediately gives you an idea of my taste in music too."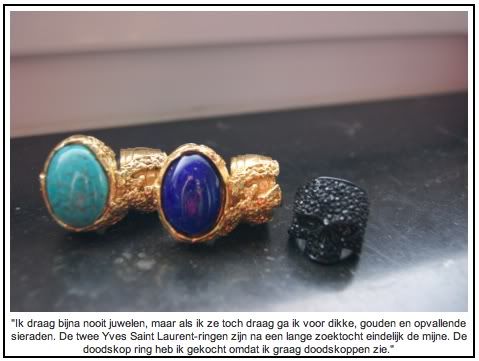 "I rarely wear jewelry, but if I wear them I opt for big, golden, chunky jewelry. I got the two Yves Saint Laurent-rings after a long search. And I bought the skull ring because I like skulls."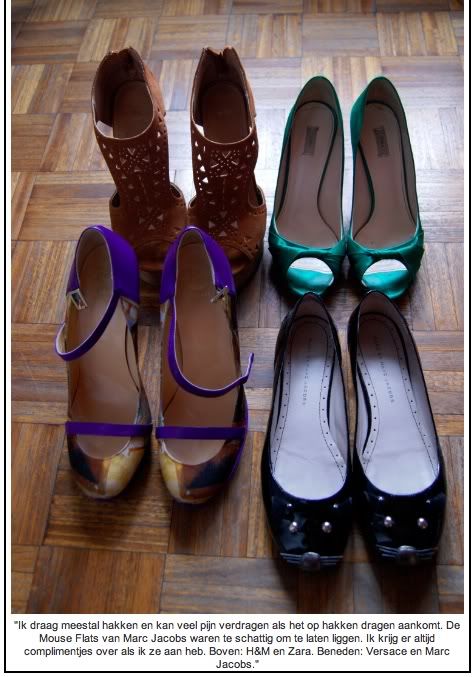 "I wear heels most of the time and can endure most of the pain they give me sometimes. The Mouse Flats by Marc Jacobs were too cute to leave behind. I always get compliments when I'm wearing them.
Above: H&M and Zara. Below: Versace and Marc Jacobs."
"The flats are from Chanel and they're totally worth their money. I walked them around Paris for 3 days and they're still in perfect condition. Every girl should also own a pair of nude pumps. I bought the Marni-wedges because I saw Mary Kate Olsen wear a similar pair by Stella McCartney. They hurt a lot, but I still wear them quite a lot.
Above: Steve Madden, River Island and River Island again. Below: Chanel and Marni."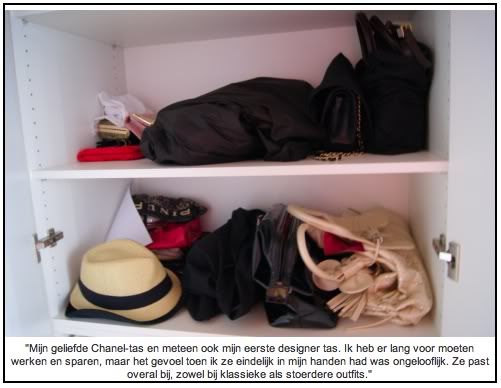 (They put the wrong text in the box, so I'm going to explain the picture in my own words.)
"I keep my bags and clutches in this closet. I try to keep them in their original dust bag, even though I have to admit I don't always do it. I don't mind to invest my money in 'more expensive' bags, so it's important to take care of them. I have to admit that I'm too lazy sometimes, which is something to be ashamed of."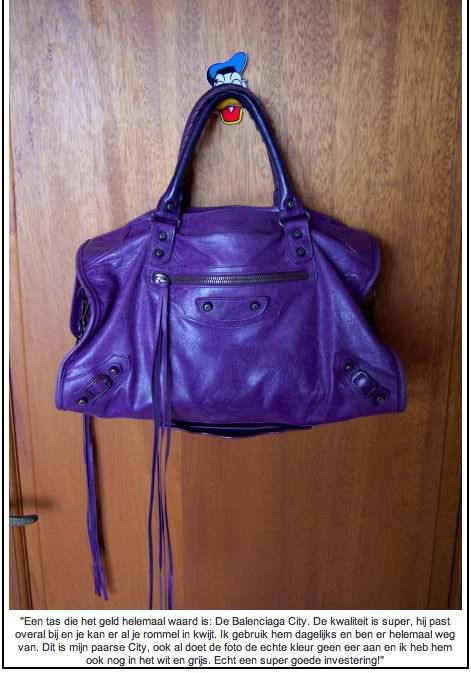 "A bag which is totally worth its money: the Balenciaga City. The quality is amazing, it fits with every outfit and you can put all your 'trash' in there. I use the bag on a daily basis and I absolutely love it. This is my raisin purple City, even if the picture doesn't do the color justice, and I also have it in white and grey. Such a great investment!"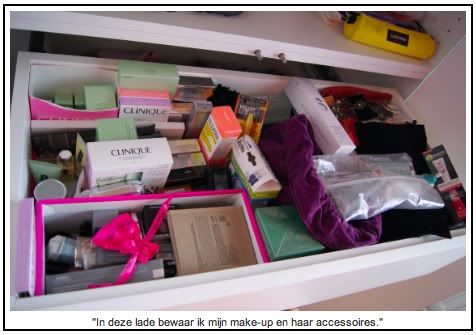 "I keep my make-up and hair accessories in this drawer."
"And in this drawer I keep my belts and sunglasses."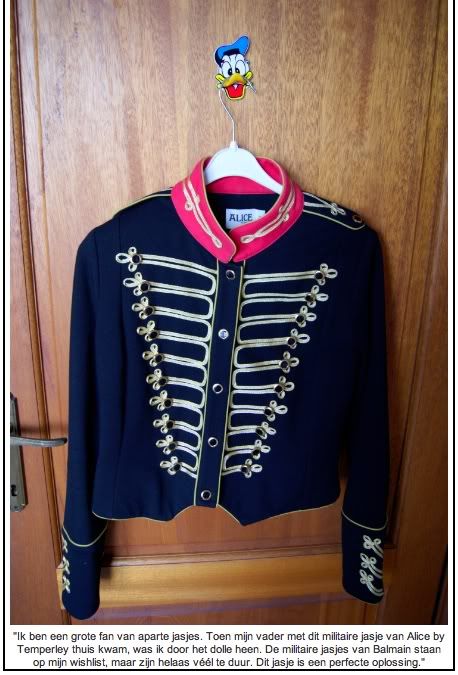 "I'm a big fan of 'unusual' jackets. When my dad brought home this Alice by Temperley jacket, I just couldn't believe it. Balmain's military jackets have been on my wish list for quite some time, but they are way too expensive. This jacket is the perfect solution."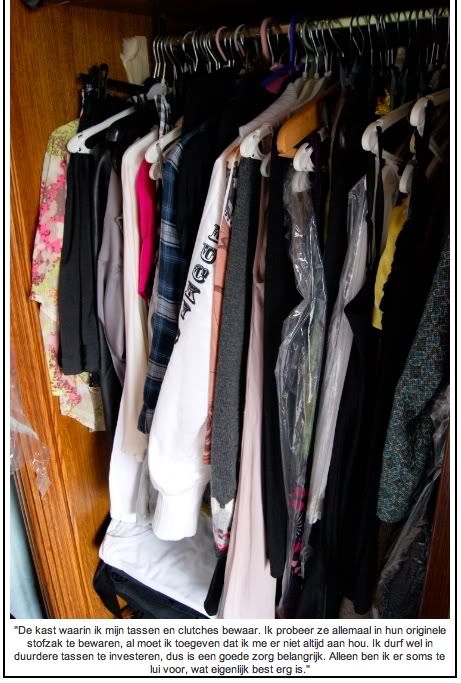 (Again, a mix up with the texts.)
"A close up of my way too full closet."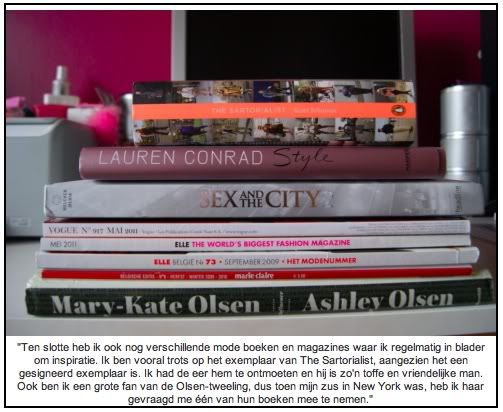 "I also have various fashion books and magazines in which I look at to get some inspiration. I'm very
proud of my copy of
The Sartorialist
's book, since it's signed by Scott Schumann himself. I got the honor to meet him and he's a very friendly man. I'm also a big fan of the Olsen-twins, so when my sister was in New York, I asked her to bring me one of their books."
I hope you enjoyed this post!