I came down with a fever and a throat infection, forcing me to stay in bed / on the couch for the past 2 days. With too much time and too little things to do, I decided to go on a research on my wish list items. Meaning: Googling pictures, drooling all over them, looking up stores and prices...
The same went for the Balenciaga headbands, famous from their S/S '13-runway show and probably my favorite pieces from the entire collection. I knew they had to be in stores by now, 'cause I'd already seen one of my favorite bloggers,
Evangelie
, wear one. So I quickly went on the hunt for the Golden Branch-version, as seen in the pictures above and below. I love history, I love mythology and this headband reminds me of Pan, the Greek god of the woods.
Already imagining the possibilities, I went looking for the price tag that comes with this beauty. It's Balenciaga, so it can't be cheap... But I never ever expected it to be a whopping € 1,385 ($ 1,815) when I stumbled upon it. Buying it won't be an option any time soon and even if it was, I'd rather buy myself a new Balenciaga bag.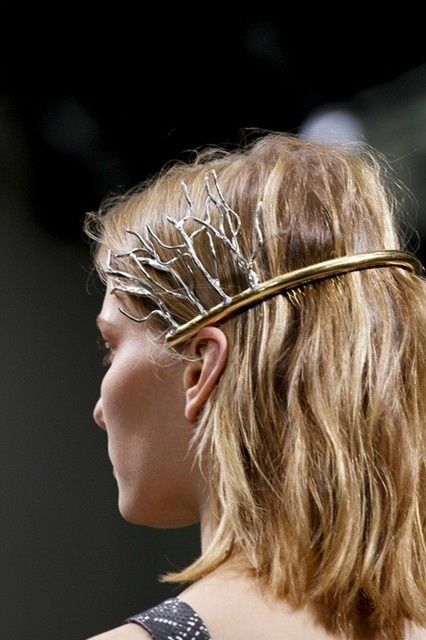 So, I kept on searching and found the simple version on
Balenciaga
. More simple, and therefor more subtle and more wearable. Cheaper, too. And sold out, of course. What do you guys think? Hit or miss? I have a feeling that these will stay on my wish list just a little bit longer.