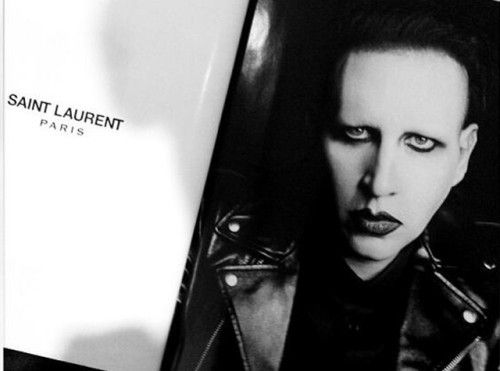 When Hedi Slimane was appointed as Yves Saint Laurent's new creative director, he immediately made it clear that big changes were going to be set in motion. First, he startled the entire fashion bizz by changing the iconic Yves Saint Laurent name to Saint Laurent Paris. Fashionistas / fashionistos (is that even a word?) were weeping, screaming that it would be the end of an era, started Twitter rants, hell, they almost started a petition to stop this from happening.
The storm around Hedi Slimane for Yves Saint Laurent Saint Laurent Paris seemed to be nothing but a little breeze for the past few months... Until now, that is. You see, Mr. Slimane never lied about his admiration for the 90s. Remember his F/W '13 RTW-collection? The models came strutting down that runway as if they'd attended a Nirvana-concert just a few hours before. And don't they (still) say that the 'grunge scene' was on it's highest when Kurt Cobain's pretty face was still among the living aka during the 90s?
Anyway, for the brand's S/S '13-campaign, Mr. Slimane didn't even think to get it-girl and now it-model Cara Delevingne, whose pretty blue eyes and massive eyebrows seem to stare at you from literally everywhere.. No sir, he decided to hire some big ass grunge stars from the good old days. Courtney Love is one of them, you know, the twat that married my beloved Kurt -- Just kidding, I absolutely love her music. Then we have Kim Gordon, one of Sonic Youth's lead singers. The band started in the 80s, but had a leading position in the grunge scene before Nirvana took over. We also see Ariel Pink, best know for his psychedelic music.
And last but not least - and he is what this seems to be all about - to join the campaign: the one and only Marilyn Manson. Shock rocker, genius, artist, freak... He has been called many names. I am a fan, stood front row for 9 hours straight at a festival just to see him play (no eating, no peeing) and am jealous of the fact that he was married to Dita Von Teese. Just like the others, he was on his best during the 90s. And just like the others, his pretty face is staring at you from the Saint Laurent Paris S/S '13-campaign. Dark eye shadow, dark lips, black leather jacket... Nothing new here, but (judging by people's startled reactions) definitely something new in the fashion world.
Just like Hedi Slimane, Yves Saint Laurent was quite a rebel himself. He was the first to use black models during his runway shows and created tuxedos for women (big shock in 1966), just to name a few. That being said, fashion experts think that this campaign could be the end for Hedi Slimane's career and maybe for all of Saint Laurent Paris. I'm not sure what to think about this one. I love myself some rebels. I was stunned when Nicola Formichetti chose Rick Genest aka Zombie Boy to model in MUGLER's F/W '11-campaign. Androgyn model Andrej Pejic walked for Jean Paul Gaultier during Paris Fashion Week in 2011, doing both shows: menswear ànd womenswear. That's what I like about the fashion bizz. It keeps evolving, changing and there's always room for something new (most of the time).
On the other hand, I can understand those who would've loved to see Yves Saint Laurent's legacy and authenticity been carried on 'till this very day. I'm dying to hear your thoughts on this one. A big hit or a big no no?
x Krizia