Glitzy pop singer Katy Perry designed a second collection for
Eylure
and it's even better than the
first one.
The pop art-packaging represents Katy's style so much more. This post was the perfect opportunity to use my Halftone-app again. :)
"Lashes AGAIN?", you might think... But hold it: they're not your average black lashes. Miss Perry - or should I say Mrs. John Mayer (lucky *tuut*) - wanted to add some "Superhero Power" to her collection and decided to design four sets of colored lashes to give that extra pop to your eyes. These subtle color injections will highlight the natural color of your eyes even more.
I tried to apply a set of Perry's first collection before going to a party, but I already gave up after 3 minutes. Not because the lashes were bad quality or because they refused to say in place, but because I'm the most impatient person walking the planet. I might give it another go, though... These lashes are just too much fun! They remind me of her My Little Pony-hair and candy colored costumes. Fingers crossed!
It was kinda hard to capture the different colors in the pictures, but if you look real closely, I think you'll get an idea of what I'm talking about. Just click below to see the different sets that are available!
The 'Katy Perry Color Pop Lashes By Eylure' will be available at Di starting from February 2013 and will cost about € 8,50 each.
These purple colored lashes are suited for all eye colors, but add that little extra to brown eyes.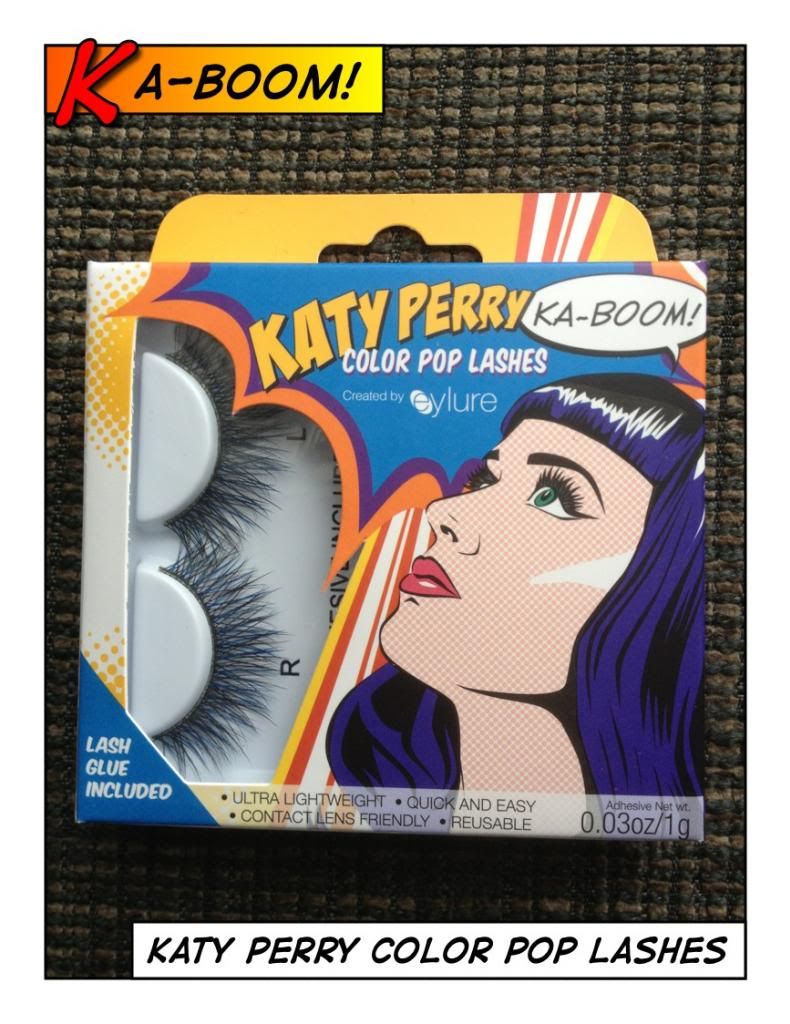 The KA-BOOM lashes will add a subtle blue touch to all eye colors, but will - obviously - come to full effect when applying them on blue colored eyes.
These 'peacock green' (is that even a word?) lashes are perfect for the bad ass, always working business woman. They're suitable for all eye colors and will give you a bright, fresh and tireless look.
Individual lashes... Just a bit more tricky, if you ask me. But... If you're going for a full volume look, these blue, purple and green colored pieces are the best option (according to Katy). You can use all colors in one look or use them separately, but thanks to the layers, you'll have that full effect super heroine look.