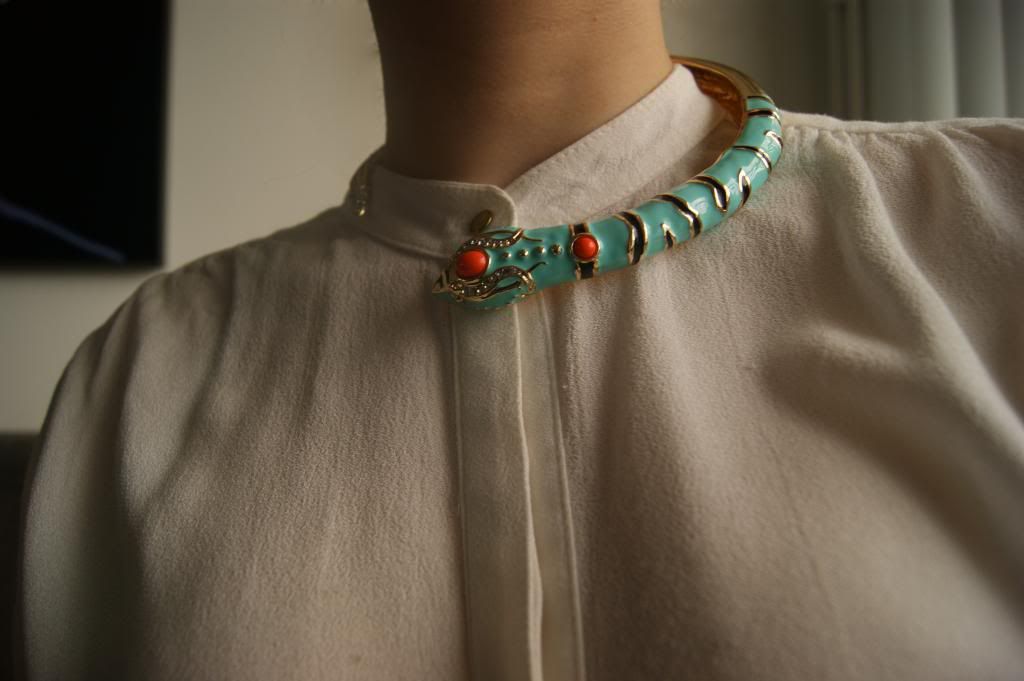 If you're following me on Instagram (username: @Krizia_S), you'll probably know that, the day before the collection hit the stores, I received a couple of items of the Anna Dello Russo for H&M-collection.
Among the items was this snake necklace. It's funny how the sweet and generous people at H&M know my style exactly. I'm a big fan of golden, chunky and bold jewelry, so I was totally digging this collection. Unfortunately, I live in this little shit hole and the nearest H&M-store to sell the collection is 1,5 hour drive away. I wasn't sure what to do... Getting up in the middle of the night to drive 1,5 hour and to wait for the store to open in the pouring rain? This surprise definitely made things a lot easier for me.
Another reason why I loved this necklace in particular, is because I love snakes. It's my Chinese horoscope. I have always wanted a snake as a pet, but my mom never allowed it -- I still haven't forgiven her. My boyfriend is afraid of snakes and sharks (hence the name of this blog, héhé). Plus, they're just amazing, beautiful and mysterious creatures. And it matches my turquoise YSL Arty ring and coral lipstick from Estée Lauder perfectly. Yeah, I pay attention to things like that, probably because I don't have anything better to do.
I'm leaving you with this detail shot -- It looks as if the snake is going to strangle me, I love it! -- because my photographer is out for the day. A white, transparent blouse, black leather leggings and boots. And this necklace. It spices up the most basic outfit in a heartbeat. I also decided to wear my hair in a bun, so that the necklace gets the attention it deserves.
If you'll excuse me, I'm off to get my fashion shower.
Ciao!
Necklace: ANNA DELLO RUSSO FOR H&M thanks to H&M