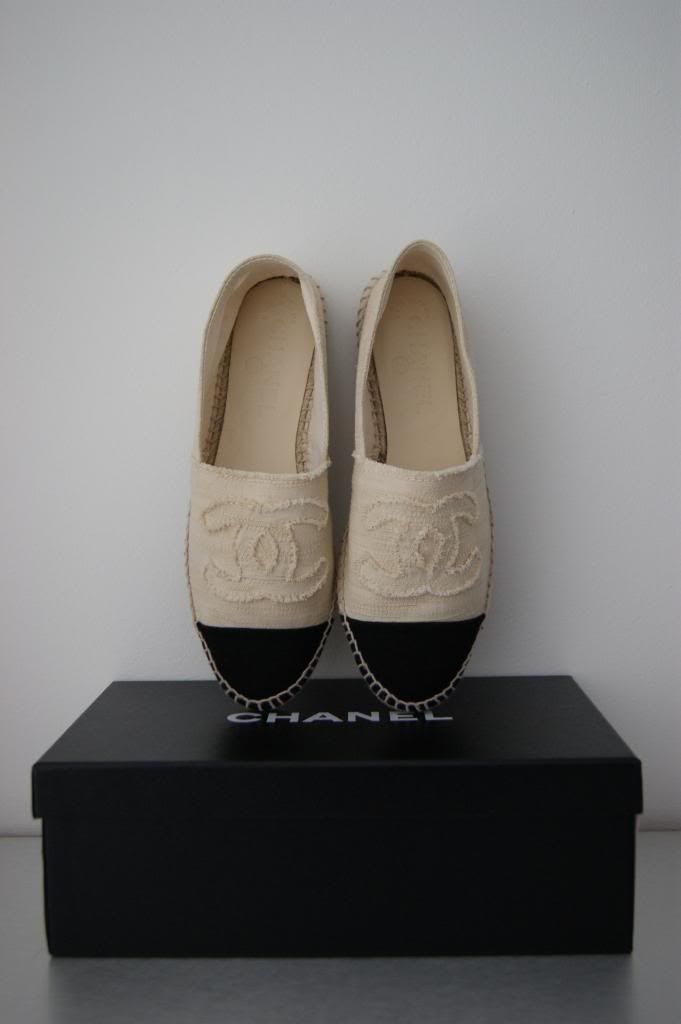 These babies have been put away safely in my closet for about a month now, but I never got the chance to show them to you. I was shopping in Düsseldorf with my mom, my sister and brother-in-law and of all the Chanel-stores I've been to up 'till now, Düsseldorf has the best selection (except for Paris, of course).
I've had my eyes on these espadrilles ever since the Chanel Cruise-collection hit the web, but my budget didn't allow me to splurge on anything. I then found my first 'job' as a teacher (well, I was just replacing someone who got sick) and I received my very first real paycheck. The perfect
opportunity
excuse to buy myself a little something, right? My sister and I used to wear espadrilles non stop when we were little. Whenever we went to Italy, my mom would buy them in tons of colors for only a couple of bucks. Aah, the good old days.
There were several colors available in Düsseldorf, but I don't see myself wearing a pair of lilac espadrilles any time soon, so I decided to go for neutral beige with the famous black tip. I can't wait to wear them with a my leather pants -- Yes, I'm pretty sure it'll be a positive match. These shoes have to be the cheapest pair in the Chanel-stores right now and if you're planning on buying a pair, you have to keep in mind that they size small. I'm a size 39 and I had to get a 40.
I've seen the espadrilles pop on tons of blogs for the past two or three weeks.
Chiara
,
Lizzy
,
Caroline
,
Esmée
, ... they all got them. I find it fascinating to see how a particular item becomes the most coveted item in only a short period of time. I mean, does it really depend on a handful of top bloggers to decide what's hot or not? I've been guilty of the Yves Saint Laurent Arty-ring and Maison Martin Margiela for H&M-booties hype, but only because I really love these items. I tend to let these hypes pass most of the time. Which hypes I'm talking about? The black pointy pumps and emerald green statement necklace by Zara, the white wedges by Mango, the tiger sweaters by Kenzo and so on.
If you happen to have a theory, do let me know. :)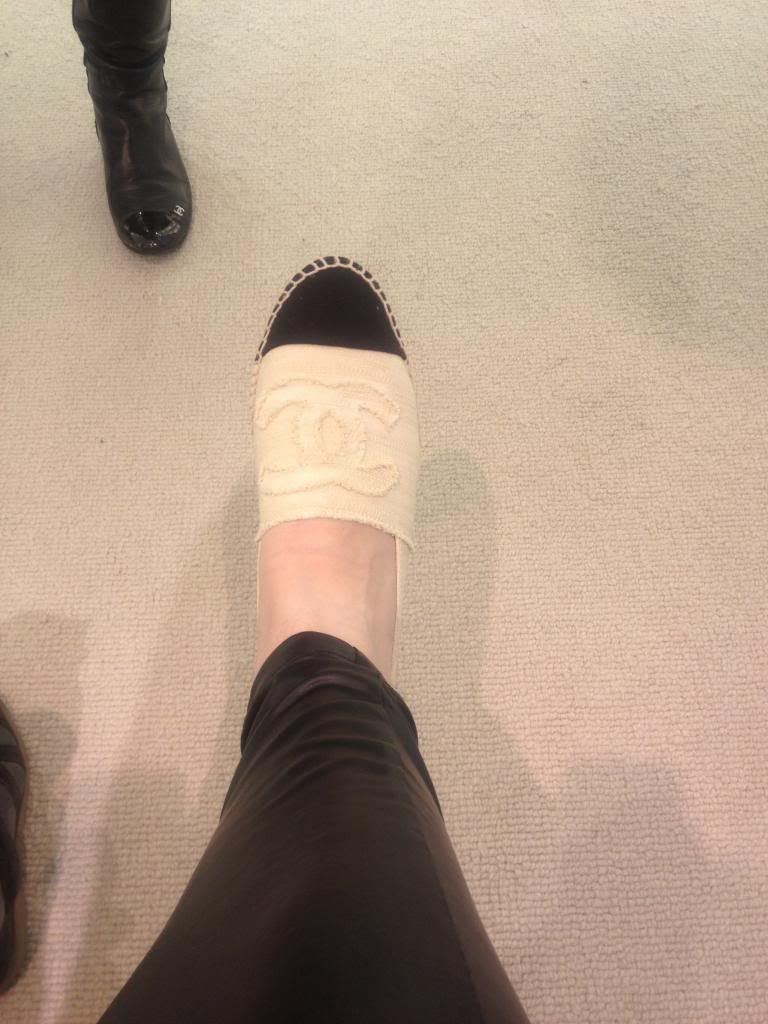 I took the Instagram-picture above (username: @Krizia_S) when I was trying them on in the store.
Here are some other pictures I've found while surfing around on the web: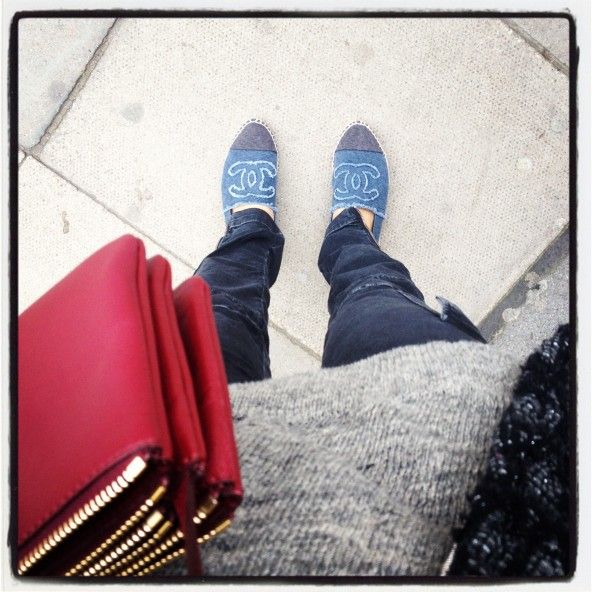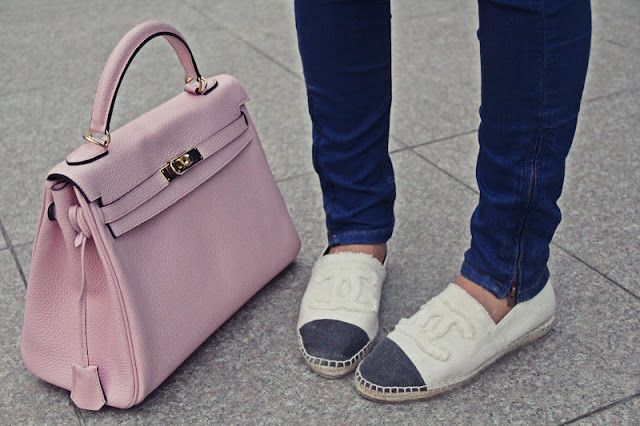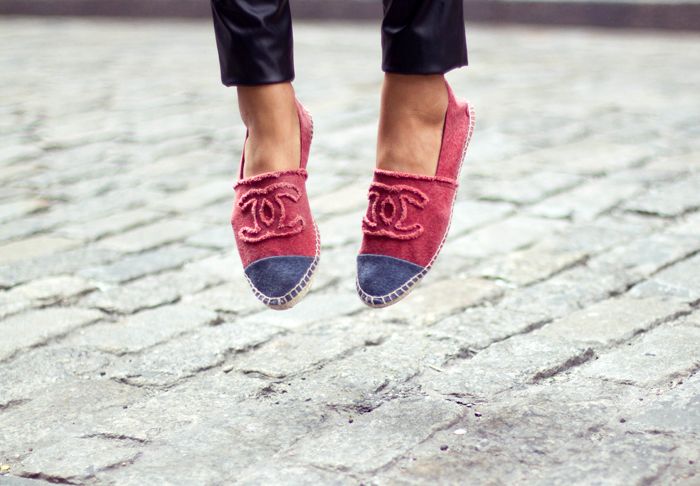 Source:
Soraya Bakhtiar
/
Xaver's Stylebook
/
Song Of Style
/ Unknown