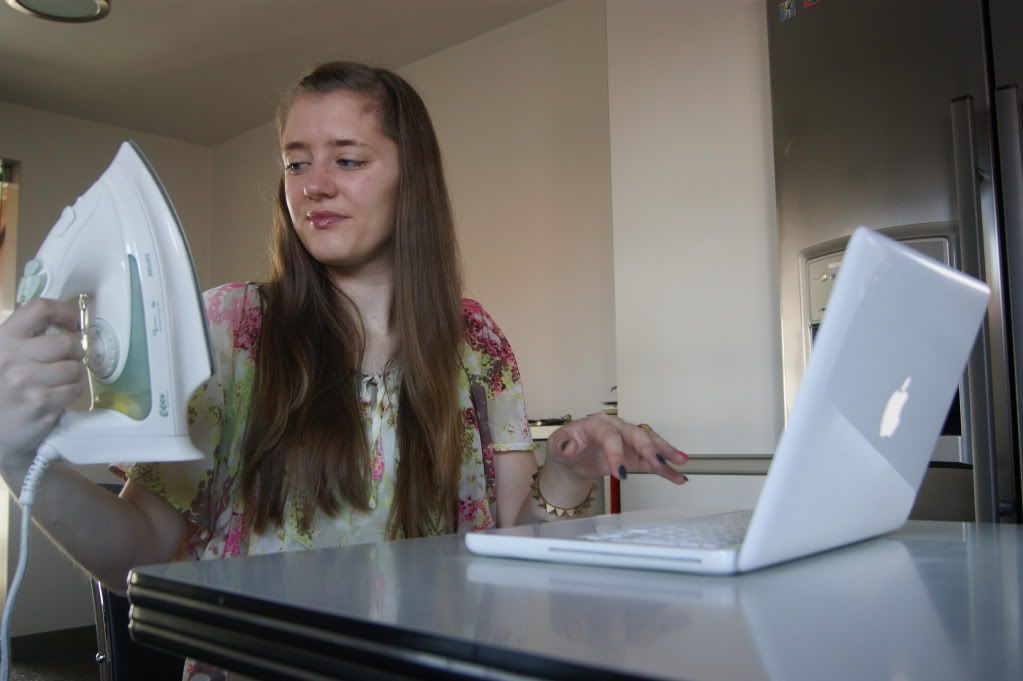 As you can tell from the picture above, I'm not a fan of ironing -- And I think I'm not the only one. ;) I must admit that I've never ironed in my life. Shame on me! So when
Belmodo.tv
contacted me for a project with them and Philips to promote their new PerfectCare iron, the first thing I thought was:
"Wow, talk about major contradiction!"
.
But apparently, the PerfectCare is the new it-iron among all irons:
you can iron all fabrics with it at once - no need to sort your clothes out before ironing - and if you forget the PerfectCare on a blouse (or other item), don't worry. Somehow, the PerfectCare doesn't burn your clothes when you forget to turn it off. Being as clumsy as I am, that might be a plus. That's why I said 'yes', to see it all with my own eyes. And who knows, maybe I'll enjoy ironing after this. ;)
To promote the PerfectCare, Belmodo.tv and Philips are going on a Strijk A Pose-tour in Belgium, searching for 12 girls of which one will become the ultimate PerfectCare Lady. They will stop in 6 cities and each city is represented by a fashion blogger and a 'random' girl they'll spot on the streets. Both girls will get a Vero Moda-make over and will get a street style shoot where they'll have to pose with the PerfectCare. When the tour is over, there will be an online voting which will choose the ultimate PerfectCare Lady.
Guess what? On Saturday 8th October, I'll be the representing fashion blogger of the PerfectCare / Strijk A Pose-tour in Hasselt! If you happen to pass by the Vero Moda-store in the Hoogstraat, beware, 'cause we might pick you to represent Hasselt with me.
If you're the chosen one, you will get some fabulous prizes:
* a Vero Moda-make over, including 200 euros shopping budget and getting your hair and make up done;
* a street style photo shoot with some professional people;
* some Philips goodies, but I'll leave that as a surprise;
* and a chance to be chosen as the ultimate PerfectCare Lady.
The online voting will go from
10th October 'till 17th October
on the
Strijk A Pose-website
and they'll choose the PerfectCare Lady on
18th October
.
Are you the PerfectCare Lady? Lucky you, 'cause you'll get:
* the PerfectCare iron, of course;
* a personal 'ironer' who'll come to your house and iron your clothes for two months;
* 4 tickets to the Weekend Fashion Awards in Brussels on Thursday 20th October -- Perfect for a girls night out!
I'm so excited for this project and who knows ... Maybe we will pick you!
See y'all there!
x Krizia
P.S.: The iron on the picture is NOT the PerfectCare!